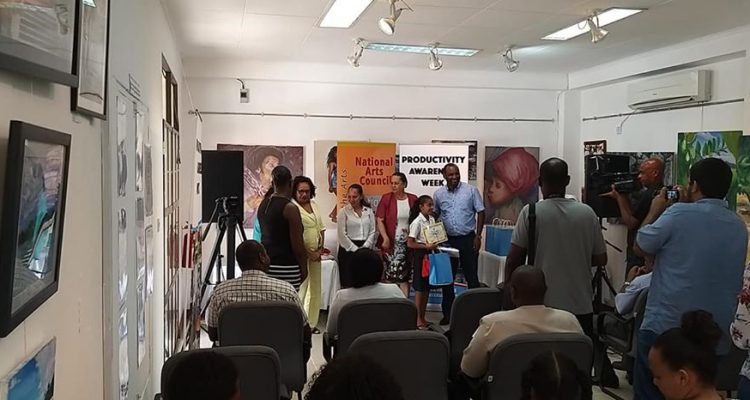 During this year's Productivity Week the Productivity Unit in the Ministry of Employment, Immigration and Civil Status in collaboration with the Ministry of Education and Human Resource Development launched a Poster Competition under the theme"My Seychelles, My Work, My Responsibility"("Mon Sesel, Mon Travay, Mon Responsabilite").
The aim of the competition was to promote and foster awareness on the importance of productivity at an early age. It is a good strategy to get students attained to productivity issues at the earliest of age so that the concept carries through them to adult life.
It was also an opportunity for the students to reflect on the mentioned theme, come up with innovative and creative ideas on how to use the mentioned theme in their own perspective through the Poem Competition.
Furthermore the Productivity Unit in the Ministry of Employment, Immigration and Civil Status wanted the students to participate in conceptualizing things associated with productivity.
The Competition was open to all Primary, Secondary and Professional Center Students in Seychelles. For this year's competition a total of 166 poems were submitted.
100 poems were from Primary Schools with Anse Royale Primary submitting a total of 49 entries. As for Secondary Schools there were 64 poems submitted and Anse Royale Secondary School recorded the highest number of entries with 25 entries. There were very few participation at Professional Centre level with only 2 poems submitted.
Primary School Category
1st Prize – Liam Denis- Glacis
2nd Prize- Nyma Leon – Anse Royale
3rd Prize – Tara Andre – Beau Vallon
Secondary School Category
1st Prize – Gucci Vereka – Anse Boileau
2nd Prize – Allisa Cresson – Grand Anse Praslin
3rd Prize –
Prizes in Professional Centre. Only two students participated from Professional Centre.
1st Prize – Gred Bradburn
2nd Prize – Rachelle Payet